United Kingdom

Sales:
+44 (0)2079 934 934

Support:
+44 (0)7404 205 964
Log In

Email Us
Sign Up

Live Chat
Trijit shifts and launched its datacenter services as TWS (Trijit Web Services)
Trijit introduces a new support level mainly known as "Legendary Support".
Trijit datacenter facilities are well knowed since people starts talking about it.
Load Balancing Servers
Trijit Web Services (TWS) delivers load balancing services with scalable and reliable options with an affordable pricing that deliver high performance and availability for your internal and external IP client access.
Benefits of TWS Load Balancing Services ensure fast connection and fail safe 24xforever access to web sites and other critical Internet and Intranet applications that help you minimize response time while maximizing site availability. Our load balancing server solutions support all Internet protocols and accommodate all operating systems.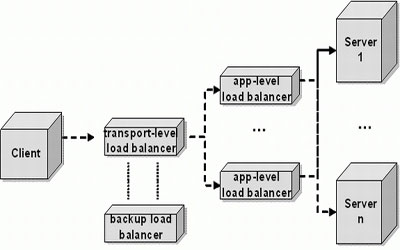 TWS load balancing services increase the capacity of your IP servers (such as web servers, FTP servers, and E-Mail servers), sharing the load among a large number of servers and making them function as one large virtual server in UK.
Our Load balancing works as the load balancer determines which server in your network is the least loaded and routes requests to that machine. It intelligently assigns requests, so all of your servers can operate at their full capacity - you won't have some servers idle while others overloaded. This can dramatically improve your site's reliability and response time, reducing your need for additional web servers and enhancing the user experience. Designed to be highly-scalable, it maintains the same high-speed performance as you add servers to the system. You can easily build highly-available, fault-tolerant sites.
Trijit Web Services (TWS) besides setting up, operating and managing the Load Balancers offers the following:
Dedicated Load Balancer
24 x 7 monitoring of Load Balancer functionality
Copies of log file reports upon request for customer records for the past week
System administration
Configuration data backup
Trijit Web Services (TWS) delivers Security features which include:
Network Address Translation
Denial of Services Protection
TCP SYN Protection
SSL Support
CONTACT SALES

+44 (0)2079 934 934
Our Testimonials
The team at Trijit (TWS) is always courteous, and has always extended us the highest levels of service and support around the clock, which makes them as our hosting provider.
Emily
HR, Case Removals
We decided to focus on our strategic value proposition so as our hosting partner is Trijit helped us to roll out all our new services namely currency deliverables, featured web and mobile trading.
Olivia
Head of IT, Global Securities Ltd
With Trijit Web Services as our technology partner, we have been able to provide our customers with a consistent and enhanced portal experience.
Harry
GM, Accede Innovationz
Trijit has given us the confidence and comfort level to focus on our business. Our potential clients are all around in Middle East Countries.
Md Imran
COO, CGHPT-Oman